Monthly Archives: March 2019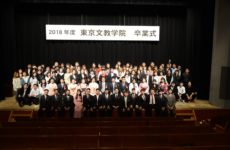 Graduation ceremony
The graduation ceremony was held on March 18, 2019. At the graduation ceremony, not only the graduation certificate was awarded, but dance, singing, and introductions of classmates were presented for each class.Everybody took a memorial photo, talked with them, and had a good time. New graduates will begin their new life tomorrow. Please do your...
READ MORE
Extracurricular lesson at Tokyo Disneyland
On Wednesday, February 27, we went to Tokyo Disney Land as an extracurricular activities. Many students came to Disneyland for the first time, and all of them  took a group photograph and then went around freely looking inside the land. They enjoyed parades and attractions to the full extent, and they took a lot of...
READ MORE